Our offer /
Prenájom apartments
Real Estate
1900144
first publication 26.11.2020
Updated 08.10.2021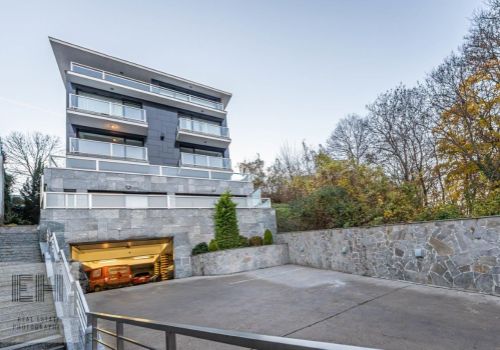 4-room furnished apartment 240 m2 + large terrace - Horsky Park Lovinského street
Type / Type
4 room flat / For Rent
City:
Bratislava-Staré Mesto
Final Price Including Commission:
2 500,00 €/ month
Advert description:
Luxury four-room apartment is located in the newly built building on Lovinského Street, near Horský Park. Very well designed, with enough storage space, with three bathrooms and a separate toilet. The apartment has a spacious living room connected to the kitchen and dining area with a spacious terrace. The apartment has three bedrooms, each bedroom has its own wardrobe, + apartment has one large separate wardrobe. Parking for 2 cars is provided in the underground garage directly under the building, which completes the complete comfort of living. The high standard of housing is guaranteed by the quality of construction as well as the use of natural materials. Detailed landscaping completes the overall enjoyment of living in this apartment building.

To the rental price of 2,500 EUR, it is necessary to add the energy fee, more information in the agency.
Characteristics:
Category:
Flats
Type:
4 room flat
Floor Area:
240 m2
Condition of object:
new building
Upstairs:
2
Balcony:
none
Loggia:
yes
Terrace:
none
Advert ID:
I-B-2711127111
Similar properties