Our offer /
Prenájom bytes
Real Estate
2067382
first publication 04.05.2021
Updated 24.05.2021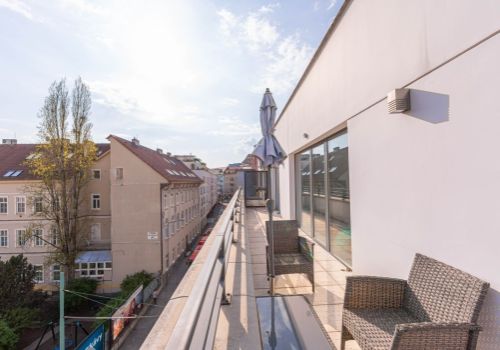 2-room apartment with a garage lot, new building, 29 Augusta Street, project Medical Park
Type / Type
2 room flat / For Rent
City:
Bratislava-Staré Mesto
Street:
Ulica 29. augusta
Final Price Including Commission:
640,00 €/ month
Advert description:
We offer for rent an higher-standard 2-room apartment in a new building from 2017 (Medical Park project), situated on the 4th floor. The apartment is unfurnished, but a kitchen is installed, a wardrobe and a hanging set in the hallway. The apartment has central cooling and heating via fan coils. The area is 60 m2 + terrace with an area of 24 m2. The bathroom has a shower and appliances: washer and dryer. Toilet connected to the bathroom, separate wardrobe. Natural wooden oak parquets, aluminum windows, day / night blinds on all windows. Appliances in the kitchen: dishwasher, hood, oven, hob, refrigerator with freezer, microwave. The apartment has a spacious terrace, overlooking the Old Town, is sunny, with a great atmosphere. On the ground floor there is a garage lot 15 m2, in the basement there is a cellar. The house has a small cafe, nearby are shops, gas station, medical park. The apartment is available from: 01.06.2021. The tenant does not pay a commission. Photos are taken with furniture of previous tenant.
Characteristics:
Category:
Flats
Type:
2 room flat
Floor Area:
60 m2
Condition of object:
new building
Upstairs:
4
Balcony:
yes
Loggia:
none
Terrace:
none
Advert ID:
I-B-271112222
Similar properties